Masal Dosa Experience 2002
Jai Sri Ram
My self and Sriram got married on 2nd June 2002, July 5th I came to Dubai.  That time we were staying in my cousin house in Karama.  After a month we found a flat and shifted to Deira.  We were staying in first floor. My husband Sriram is frequently flying from Dubai to Bahrain on an official visit. After three days (we shifted to new house)Sriram told that Suba tomorrow am going to Bahrain this time I will stay there for few months so tomorrow on words, you have to stay alone. Don't worry our Swamiji is always with us.  During my absence if you want to anything, just pray our Vikraman swamiji. He will take care of everything. Then Sriram left to Bahrain.
After three days I think it was on Friday, early morning I woke up around 6.30 had a coffee and thought of arranging the new house because have to set right all the house hold items.
After finishing my work, when I saw the time it was 11am and I was too much hungry. That time I was thinking fraction of second that Sriram is always talking about our Vikraman swamiji that he can do anything and everything.  Now I am very hungry can Vikraman swamiji send one masala dosa for me?  After a while I collected the garbage bags from my home and went down to the ground floor and put it in the garbage bin. When I come back to my flat may be it took only 3 minutes, someone kept a parcel in our flat door handle, and I was speechless and astonished because the parcel is from Amba Vegetarian Restaurant, Deira, Dubai.  I open the door and immediately called that restaurant and I asked that that "I am calling from this flat, but I haven't ordered any food but someone kept a parcel in my door. He immediately replied that, mam in your apartment, 12 flats are there..already I checked with 10 flats and the 11th one is arab national is staying....I know They will not order any vegetarian food finally 12th flat is only your house and I received call from your house telephone number.  Finally I asked him, ok I can understand and thank you for your efforts to deliver the parcel but I didn't pay cash for this parcel, for that delivery boy replied over the phone that don't worry mam, when I am free I will collect the money then he cut the phone politely.
When I was eagerly opening the parcel, totally exited that I got one masal dosai which I asked Swamiji, and our Swamiji is always give more than what we ask also I am also too much hungry because that additionally our swamiji sent one poori set also. Thanked my Swamiji hole hartedly for giving me such a wonderful 1st experience, once again thank you for fulfilling my physical as well as spiritual hungriness dear Swamiji.
 Our Swamiji's Miracle on Shangu Pushpa.
We had this miracle on Wednesday, 17th October 2012.  Sriram use to come for lunch every day.  That day while having our lunch Sriram told me that Suba how swamiji is graceful today because with his blessing we got 11 sanghu pushpam(Sanskrit name Aparajitha)
Then I immediately told him, if swamiji gives blue color also, am so happy. Why because, in our balcony we have planted two type of sanghu pushpam..One is blue color and another one is white color. That is why I told him.
Sriram instantly replied to me that no subha, you don't have contentment.
Whatever swamiji gives you should accept..
Again I told, no Sriram am not asking for me. Am asking for our swamiji. I want to keep the folower in our Swamiji's lotus feet.. What's wrong..
Again sriram told no you are always troubling swamiji. Again he was telling whatever swamiji gives we should accept. Then he went to the office.
Immediately I went to pooja room. I was talking in front of swamiji.. Swamji!! Why you are always doing favor only to Sriram? You are not loving me..but am loving you sooo much..you got it..then I came out from the room.
Next day 18th October Thursday morning, Sriram was plucking the flowers in our Balcony. He was shouting, subha where are you? That time I was in the kitchen.. what sriram?
Sriram told, yesterday what you have asked Swamiji? You requested only one blue color sanghu pushpam..Swamiji granted your request and sanctioned next day it self by giving only one blue color Sanghu pushpam.. I was extremely happy.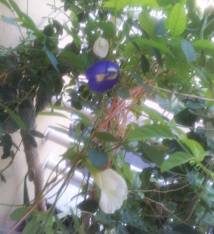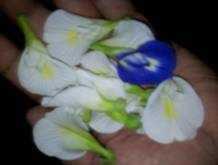 After 10 mintues sriram asked me,did you say thanks to our swamiji.. yes sriram  I already gave flying kiss to swamiji.  Our Swamiji is varaprashdhi, once again thank you for giving me the flourishing life and opportunity to have wonderful experience.
Swamiji removes Salty taste and give back to Sriram:
We attended Swaiji Dubai pooja on 1st week of March, 2013 in Sathish Basker's house.
During that pooja swamiji mentioned, suba whatever food you made, it was very tasty. I immediately replied, swamiji you are always appreciating the food which I prepared, but sriram whatever I made, he is always complaining about my food taste like salt is less or too much spicy or no taste etc.
Swamiji replied immediately that don't worry Subha..In future, whatever you prepare for him he will accept with out any comments or complaint..
Then end of april 2013 sriram again started complaining about the food taste it made me upset also and during that week end, we also went to one veg restaurant. while he was paying, he mention to the cashier that your restaurant food is excellent but salt is very less..that guy was just listening and politely replied sorry sir we will check and correct it.
On 2nd May'13 sriram came for lunch..That time also he he repeated that same that salt is less,next time,too much spicy, or masala jasthi etc.. Today really I was fed up with sriram.. I was praying to swamiji, please swamiji do something.
Then 3rd May'13 he came for lunch. While having his lunch he asked me to give a pinch of salt?
He tasted it..That time he realized, suba it is not your problem, it is my tongue problem, because not able taste  Salty taste in the food,  to give the realization to Sriram our Swamiji removed the main salty taste so Sriram realised his mistake and raised his both hands and prayed to Swaiji to give back the Salty taste, our Swamiji is karunamoorthi he always listening to his devotees request. 
6th May'13 was my birthday, our Swamiji is very kind, Sriam got back the salty  taste. It was a memorable day for him. From that day onwards as Swamiji mentioned, what ever food I serve for Sriram he is happily enjoying the food without any comments, once again thank you very much Swamiji.